In Memory
Bruce Guilliams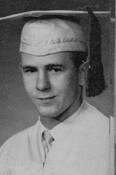 Obituary from Natchitoches Times, December 22, 1998:
Funeral services for David Bruce Guilliams, 54, of Natchitoches were held Saturday, December 19, 1998 at 2 p.m. in the chapel of Blanchard-St. Denis Funeral Home with the Rev. Charles Bates officiating. Burial followed in L.C. Weaver Cemetery in Campti.
Mr. Guilliams died Friday, December 18, 1998 at Overton Brooks VAMC in Shreveport.
Guilliams was a native of Natchitoches and a U.S. Navy veteran. He was a former police officer at Northwestern State University.
He is survived by his father, James D. Guilliams of Natchitoches; three sisters, Patricia Sinclair of Mineola, Texas, Billie K. Giddens and Randi Eve Marrs of Huntington, Texas; and two brothers, Tim Guilliams of Natchitoches and Kelly Guilliams of Heflin.