In Memory
Robert L. "Bobby" King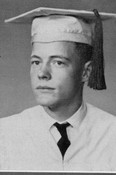 Obituary from The Natchitoches Times, February 28, 2006.
Robert "Bobby" Lynn King Sr.
Funeral services for Robert "Bobby" Lynn King Sr. will be held Wednesday, March 1 at 10 a.m. at Warren Meadows Funeral Home Chapel with the Revs. Hoy Leach, Bob Latham and Lee Dickson officiating. Burial will follow in Beulah Cemetery at Marthaville.
Visitation will be Tuesday, February 28 at 5 p.m. at the funeral home in Many.
Mr. King passed away Monday, February 27, 2006, at his residence.
Survivors include his wife, Shirley Fruge King of Belmont; one son, Bobby Lynn King Jr. and wife Penne of Memphis, Tenn.; two daughters, Twila Kay Tacker of Memphis and Kim Hicks and husband Kelvin of Hornbeck; step-son C. Louis Burr Jr. and wife Jonell of Natchitoches; step-daughter Angela D. Burr of Frierson, mother-in-law Dora Edmunds of Keithville, two sisters Helen Franklin and husband Carey of Mansfield and Nell Stephens of Shreveport; sisters-in-law Theresa Ezernack and husband Karrell of Keithville and Trudy Manshack and husband Marty of Converse; brother-in-law Bobby Fruge of Shreveport; 11 grandchildren; a host of nieces, nephews and friends; and special four-legged friends Tinker and Tetter.
Mr. King was preceded in death by is parents, the Rev. and Mrs. J.P. King; and grandparents Matt and Faye King and Allan and Julia Prothro.