In Memory
Larry O'Quinn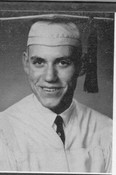 Obituary for Larry O'Quinn. Natchitoches Times, June 6, 1963, page 1.
Injuries Fatal to L. O'Quinn
Funeral services for Larry Wayne O'Quinn, 19, were held Wednesday at 11 a.m., at Cypress Baptist Church with the Rev. J. H. Hucabee officiating. Internment under the direction of First National Funeral Home was in Fern Park.
The lad died in a Shreveport hospital Tuesday, June 4, at 7 a.m., from injuries received in an automobile accident two miles north of Coushatta about 1 a.m.
He was a graduate of Natchitoches High School and a sophomore at Northwestern State College.
Young O'Quinn is survived by his parents, Mr. and Mrs. William Earnest O'Quinn of Cypress; one sister, Mrs. W. S. Sandefur, III of Denton, Tex.; three brothers, Richard D. O'Quinn and William Orville O'Quinn, both of Shreveport, and Ronald David O'Quinn of New Orleans; and his maternal grandmother, Mrs. I. B. Dowden of Natchitoches.
Pallbearers were Douglas Trichel, John R. Dalme, Glenn Fuller, James Scarborough, Mack James, and Percy Little.