In Memory
Judy Carol Winn (Warren)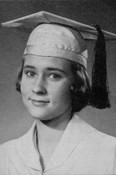 Obituary for Judy, Natchitoches Times, April 21, 1994:
Services for Judy Carol Winn Warren were held Monday, April 11 at 2:30 p.m. in the First Baptist Church is Richland Springs, Texas. The Rev. Tom McCollister, pastor, officiated with burial following in the Richland Springs Cemetery under the direction of Larry D. Sheppard Funeral Home of San Saba, Texas.
Mrs. Warren, 49, of Richland Springs died at 11:55 a.m. Friday, April 8, 1994, at the Hendrick Medical Center in Abilene, Texas, after brief illness.
She was a native of Clarence, a former member of Natchitoches High School Band, and Delta Zeta Sorority while at Northwestern State University, an active member of First Baptist Church of Richland Springs, a pianist at the Clarence Baptist Church for a number of years, a graduate of Natchitoches High School and Northwestern State University and earned her certificate to teach elementary education from Howard Payne University of Brownwood, Texas.
She taught school in Houma, Brade, Texas; Houston, and was a special education teacher in Richland Springs School at the time of her death.
She is survived by her husband, Henry J. Warren; one son, Jay Winn Warren, both of Richland Springs; her parents, Clifford CV. and Ruth S. Winn of Natchitoches; two brothers, Perry Lee Winn of ElDorado, Ark., and James (Jimmy) Winn of Grapevine, Texas; and several nieces and nephews.