In Memory
Mr. Wallace Van Sickle (Band Director)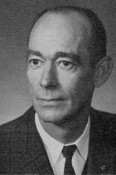 Obituary from The Natchitoches Times, Thursday, November 29, 1984.
Funeral Services are Held for Former Band Master
Wallace W. VanSickle, a longtime band directyor at Natchitoches High School before he became principal of Parks Elementary School, died at 10:30 a.m. Sunday, November 25, (1984), in the Natchitoches Parish Hospital Long Term Care Unit. He was 63.
A native of Hope, Arkansas, Mr. Van Sickle attended Southern State College in Magnolia, Arkansas, and the University of Georgia before earning his bachelor of arts degree at North Texas State University. He had also done graduate work at the University of Arkansas.
While band director at NHS from 1954 to 1969, his bands won a number of honors in marching and playing competition and he was invited to be a member of the American Bandmasters, a prestigious organization.
He was principal at Parks from 1969 until his retirement in 1981.
During World War II he served in the United States Navy.
Funeral services were conducted by Dr. James Poole of the First United Methodist Church in the Blanchard-St. Denis Funeral Home Chapel at 4:00 p.m. Monday. Burial was in Fern Park Cemetery.
Pallbearers were Jack Hardin, Bob Hardin, F. B. Ward, Ben Ash, James LaRoue, and Trent Melder.
Survivors include his wife, Mrs. Florine L. Van Sickle of Natchitoches; one son, Clarke Van Sickle of Baton Rouge; three daughters, Mrs. Kay Wiley of Homer, Mrs. Ginny Eliasson of Shreveport, and Mrs. Leslie Methvin of Natchitoches; and one sister, Mrs. Homer Howard of Prescott, Arkansas.
Thirteen grandchildren also survive.