In Memory
Mrs. Etta Mae Martin (Faculty)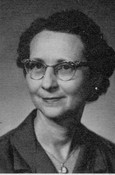 Obituary for Etta Mae "Me-Me" Martin in The Natchitoches Times, December 17, 2003.
Services for Etta Mae "Me-Me" Martin were held at 2 p.m. Wednesday, December 17 in Pine Grove Baptist Church with the Rev. Ralph Johnson and Dr. Roy Cook officiating. Burial was in Pine Grove Baptist Cemetery at Mora under the direction of Blanchard St. Denis Funeral Home of Natchitoches.
Miss Martin, 89, of Natchitoches died Monday, December 15, 2003, at Natchitoches Parish Hospital Long Term Care Unit.
She was a native of Mora. She was a retired home economics teacher for the Natchitoches Parish School Board and a member of First Baptist Church of Natchitoches.
She is survived by three sisters, Louise Bolton of Kisatchie, Verleen Fuselier of Lake Charles and Pearlie Starks of Moss Bluff; two brothers, Raymond Johnson of Morgan City and Williard Johnson of Gonzales; and a host of nieces, nephews, and friends.