In Memory
Mrs. Birdie T. Landry (Faculty)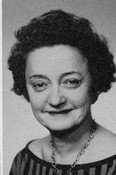 Mrs. Landry was born June 13, 1904. She died October 24, 1996 and is buried in the American Cemetery, Natchitoches, LA.
Obituary from The Natchitoches Times, Friday, October 25, 1996:
Services for Mrs. Birdie Trisler Landry will be held Friday, October 25 at 10 a.m. at Holy Cross Catholic Church with the Rev. Sheldon Roy and Deacon Joe Peltier officiating. Burial will follow in the American Cemetery under the direction of Blanchard-St. Denis Funeral Home.
Mrs. Landry, 92, of Natchitoches died at Heritage Manor Nursing Home in Natchitoches, Thursday, October 24, 1996.
A resident of Natchitoches, she was a native of Marksville and a member of Holy Cross Catholic Church. She was a retired teacher, having taught art and American history at Cloutierville High and Natchitoches High School for many years. She was a mekber of Delta Kappa Gamma and Kappa Kappa Iota organizations.
Surviving is her daughter, Mrs. Patricia Gillan of Natchitoches.
Pallbearers will be Deacon Joe Peltier, Jack Moore, Arthur Dew, Dr. Jack Pace, Charles R. Cox and Dr. Frank Fuller.