In Memory
Mrs. Cora Carver (Faculty)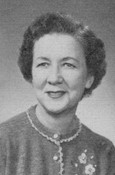 Cora Carver died March 18, 1994 in New Orleans, LA. She is buried in the American Cemetery in Natchitoches, LA.
Obituary written by Hampton Carver, son of Cora Carver.
Cora Turpin Carver was born on June 15, 1909 to Henry H. Turpin (b. 1871) and Cora Pierson (b. 1881). Except for a few months at the beginning of her life and a period of time at the end, she was a lifelong resident of Natchitoches. Before she was 20, she graduated from The Normal School, receiving a teacher's certificate authorizing her to teach any subject. Shortly after her graduation, she began teaching in Pelican and Vivian, Louisiana. Then she moved to Shreveport and taught English at Byrd High School. Her father died in 1930. In 1937, she married Marshall H. Carver (b. 1900) and resigned her teaching post. During and immediately after the war, she worked at the American Red Cross. Her only child, M. Hampton Carver, was born in 1944. She and her husband and mother and son lived in the house on Jefferson Street in which she had lived as a young girl.
In the mid-1950s, she began teaching English at St. Mary's High School. Then in 1959, she went back into the public school system and began teaching at Natchitoches High School. She moved to Northwestern Junior High School in 1961, where she continued to teach English until her retirement. Her husband predeceased her in 1964. She never remarried. Her mother died in 1971. Mrs. Carver was also predeceased by her brothers, James G. Turpin, Harry H. Turpin and Ovide L. Turpin. In 1984, she moved to New Orleans where she began living at St. Anna's Asylum which is located in an historic pre-Civil War building originally erected to house widows and children whose fathers had died of yellow fever. Although she had moved to New Orleans, she continued to keep her house on the river in Natchitoches and occasionally was able to return there for "vacations." She was a lifelong member of the Methodist Church. She died on March 18, 1994, survived by her son, Hampton, her daughter-in-law, Mary Lee, and her grandson, Marshall.
Her life was divided into three approximately equal portions: the time before her marriage, the time dudring her marriage and the time of her widowhood.