In Memory
Glennie Ruth Russell (Parker)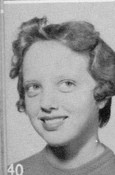 Obituary from nwla news.com, Bossier Press Tribune and Minden Press-Herald, Friday June 25, 2010.
In memory of a devoted mother: Glennie Ruth Russell Parker, age 65, went to be with the Lord on June 18, 2010 after a year-long battle with cancer.
Glennie, a native of Ringgold, was born on December 17, 1944 and passed away in her Haughton residence. She was employed at Holiday Lanes in Bossier City for over 13 years prior to her illness.
Glennie is preceded in death by her loving husband of over 43 years, Joe W. Parker, Jr., a native of Derry, LA; her parents, Johnnie Louise Russell and Eldred M. Russell; and brothers, M.A. Russell and Eugene Russell.
She is survived by her three sons, Vincent B. Parker and wife Judy B. Parker of Haughton; Christopher Parker and wife Morene Parker of Derry; Gene Dwayne Parker of Bossier City; her loving brother, J.E. Russell and wife Sue Russell of Shreveport; her loving sister, Marie Carter of Bossier City; eight grandchildren and many great-grandchildren that she loved dearly.
The family would like to extend a sincere thank you to the Feist-Weiller Cancer Center in Shreveport, LSU Medical Center, United Home Health Care of Shreveport, Agape Hospice Care in Shreveport and to all the doctors, nurses and staff members. The family thanks them for all their care and for the love they showed Glennie during her time of need.
The family extends a special thanks to Nancy, Elaine, Skip and Pam. "We couldn't have done it without your help." The family also thanks Claire for all of her personal care during their time of need.
A memorial will be held in the weeks to come for family and friends at the Chopin Cemetery. On this day we shall celebrate all that you have been and will continue to be in our hearts; a wonderful devoted mother.